Enjoy Hällefors on a bike!
We definitively recommend a tour around the lake Torrvarpen, to visit Grythyttan or one of the nice beaches.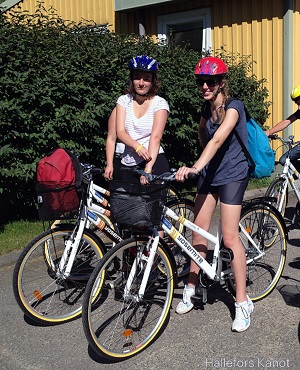 We hire out bikes for your own trip or enjoy a bike at your sommerhouse. As a daytrip we recommend roundtrip Torrvarpen runt. Or just take a biketour to one of the beautiful beaches!
Bike hire, price per day SEK 200 (incl. helmet)
The distance of the Torrvarpen roundtour, with start and finish in Hällefors is nearly 40 km.
This tour starts after road 63 to Grythyttan. Take sideroad to Smalviksvägen to the Sör-Älgen lake. Follow this road until Grythyttan for a visit/break, lunch or icecream. Next direction is towards Loka, over the Torrvarpsunds bridge. At Skatviken - go to the right along Torrvarpen-lake to Bovik. Follow the road until Lövnäsudden and further until Saxhyttan. On this road you can visit the beautiful Storsand-beach. After that through the little village of Saxhyttan towards Hällefors with possibillity to visit Nature reserve Knuthöjdsmossen before you will reach us again.
Map of this tour is available at our place.