Family Tour package 3 - 5 days
Family trip on Svartälven river
The canoe trip begins with a transport to a together agreed point from where you then paddle south to Hällefors. You can spend the night at the camp sites with shelters and fireplaces, or you can camp in the wilderness area somewhere along the river.
The trip is very well suited for families with children and it is good to swim and fish. It starts with a transfer, has some easier portages and ends at our place in Hällefors.
Before the tour starts you get our maps and tour information and then even have the opportunity to rent extra equipment.
This is included in our basic equipment: Canoe incl. paddles, life jackets, canoe trolley, 1 barrel per canoe, seat cushions, tourbriefing, maps, nature card, shovel, bucket + sponge + 5m rope and transport.
Our package prices are examples. When your family has a differnt composition or you prefer a different duration please contact us for an offer. > Request

Family Canoe tour 3days/2 nights
3 Days/2 Nights
2 Adults + 2 Children
2 Canoes
Basic equipment
Naturecard
Transfer
(other compositions on request)
Family tour 5 days/4 nights
5 Days/4 Nights
2 Adults + 2 Children
2 Canoes
Basic equipment
Naturecard
Transfer
(other compositions on request)
5 Days canoe + 1 night hostel
6 Days/5 nights
2 Adults + 2 children
2 Canoes
Basic equipment
Naturecard
Transfer
1 Night in hostelroom, incl sheets
4 Nights in wilderness (own tent)
(other compositions on request)
INSPIRATION AND MORE INFO
| Extra Equipment | 4 - 8 days | 10 - 15 days |
| --- | --- | --- |
| Tent 2-3 pers | 350 SEK | 450 SEK |
| Groundmatrass | 60 SEK | 80 SEK |
| Gascooker incl pots and gas | 350 SEK | 450 SEK |
| Tarpaulin | 80 SEK | 120 SEK |
| Cutlery (per person) | 50 SEK | 75 SEK |
| Axe | 50 SEK | 75 SEK |
| Saw | 50 SEK | 75 SEK |
| Sleeping bag, incl innersheet | 150 SEK | 220 SEK |
| Fishing equipment set, incl bites | 150 SEK | 250 SEK |
| Extra drybag | 80 SEK | 120 SEK |
* Naturecard. Local authorities charge a fee for canoeguests paddling in the Svartälven area and hiking the Silverleden track. This 'Nature Card' gives you acces to prepared shelters, fire places, wood, toilets and garbage containers along the route. This card is included in our tour prices.

Linder Inkas 465-495-525 cm.
Hiring Kayak as the other paddling nature-experience!
Vi have kayaks for starters and for more experienced
Kayaks are even often used as a supplement in a canoegroup with an odd number of participants
Oasis Rainbow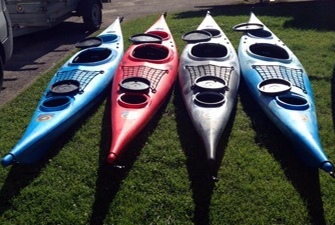 Point 65 Jack
Hällefors, in the middle of the wilderness
We are located just 1 km from the center of Hällefors and centrally located for wilderness adventures. Near Svartälven, Silverleden, the nature reserve Knuthöjdsmossen and Grythyttan. An ideal starting point or destination for your canoe, kayak, hiking trip or one of our other outdoor activities!
Questions or own suggestions?
Flex is clean, super flexible, responsive, includes Page Builder and comes packed with powerful options! Flex ensures that your website will be adjustable to the most popular screen resolutions, whether you watch it on laptop, tablet or phone devices, without the need for a separate layout or content. Get the sharp and crystal clear images across all devices.